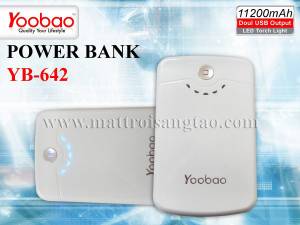 Pin sạc dự phòng dung lượng cao
---
Sản phẩm pin sạc dự phòng duy nhất trên thị trường có thể sạc được đồng thời  cho cả Taplet như iPad, Samsung Galaxy,….và Mobile với cổng USB 2A và 1A tiêu chuẩn. Dung lượng pin siêu khủng 11200mAh.
---
Sản phẩm pin sạc dự phòng duy nhất trên thị trường có thể sạc được đồng thời  cho cả Taplet như iPad, Samsung Galaxy,….và Mobile với cổng USB 2A và 1A tiêu chuẩn….. Dung lượng pin siêu khủng 11200mAh.
Có thể sạc đồng thời cho cả Taplet và Mobile trên cả 2 cổng USB 1A và 2A cùng một lúc.
Phụ kiện tặng kèm:
+ Bao dựng
+ Adapter 110-220V to USB
+ Một số đầu sạc đi kèm (xem hình phía dưới), đối với các thiết bị mà không có đầu sạc đi kèm người dùng cần phải có cáp USB của thiết bị đó để kết nối thiết bị đó với YB-642.
Original Yoobao Long March Power Bank YB-642 11200mAh
Long March High Capacity Power Bank
Specifications:
Item: Power Bank YB-642
For: Fix for various mobile phones and devices
Capacity: 11200mAh
Weight: 253g
Input: DC 5V-1000mAh
Output: 1. DC 5.3V-1000mA (MAX)
2. DC 5.2V-2000mA (MAX)
Dimension: 120mm x 75mm x 25mm
Power Status: Blue LED
Material: Non-flammable, ABS housing, Non-flammable PCB
Features:
– Charge up to 2 device the same time
– Torch light function
– Portable, rechargeable, and universal power pack
– Improve talk time and game playing time
– Five LED indicators show battery's real time capacity
– Elegant and executive designed make it looks fashionable and smart
– Flexible recharging of power pack via notebook USB port or wall adapter with USB charging cable
– Automatic recover function for your battery capacity of mobile phone or other device
– Meet all related safety standard
About Yoobao YB-632
Nowadays it is pretty normal for us to have a few mobile devices powered by rechargeable battery, including hand phone, GPS navigator, tablet, digital camera, PSP, MP3 player, etc.
Some of those high end mobile devices are fast in consuming battery, it require us to recharge the battery very frequently. For example, we almost have to recharge our Smartphone (Android, iPhone, …) and tablet (iPad, Samsung Galaxy Tab, …) on daily basis.
During the recharging period, the mobile devices are no longer mobile. They might be still usable while plugged in a wall socket for battery recharge, or they are temporary unusable because the battery is taken out to be charged by external charger. A common way to overcome this is to prepare additional batteries, so that the mobile device can still be used by replacing the flatted battery with the spare one.
However, different mobile device uses battery of different size and capacity. Their battery is charged with different charger too.
Imagine that we are going for outdoor activity in a place with no electricity supply, such as camping or mountain climbing, for at least a few days. How to solve the battery power need of our Smartphone, GPS navigator, tablet, and even torch light?
The YB-642 Yoobao Power Bank comes with 11,200 mAh capacity, the perfect solution for the above cases.
A power bank is an external battery with high storage capacity, which is able to provide power to the mobile device through its charging mechanism. Yoobao produces a few models of power bank, and YB-642 has the highest power storage capacity of up to 11,200 mAh, which is very long lasting.
The size and look of YB-642 is similar to old style PDA, and its weight is just 253g, not heavy to carry.
Suitable for iPad, Galaxy Tab, all Andriod Tablet, iPhone, Camera, PSP, GPS and etc.
Inside the package, there are:
The YB-642 power bank itself
A micro-USB cable to charge the power bank
A power adapter that convert AC 100-240V power to DC 5V-1000mA
A DC3.5 switch cable that connect YB-642 to one of its connectors
Connectors for mini-USB, micro-USB, Apple (iPhone, iPod, iPad), Nokia, Samsung phone, Sony Ericsson and PSP
User manual
YB-642 has 2 USB output interfaces. The left one (marked as 1A) is able to output DC 5.3V-1000mA max, suitable for most mobile devices that accept 1000mA charging. The right one (marked as 2A) is able to out DC 5.2V-2000mA max, suitable for tablets and other devices that need a higher charging current.
YB-642 is very easy to use, just put it to the device and charging will automatically begin. Disconnect its cable and it will automatically turn off itself.
YB-642 is able to charge up to 2 mobile devices at the same time, by using both of its USB outputs.
YB-642 is also able to provide current to Samsung Galaxy Tab, which accepts 2500mA charging. Just plug the Samsung Galaxy Tab to 2A output of YB-642 using the USB cable that comes with the tablet. Although it cannot effectively recharge the battery of Samsung Galaxy Tab which requires 2500mA current for recharge, plugging
YB-642 to the Samsung Galaxy Tab enable you to use the tablet for a much longer time.
YB-642 also has a LED light in front, which you can use it as a torch light. Push its button for more than 2 seconds to toggle the torch function. The LED torch can last for 540 hours (over 22 days) in a fully charged power bank when its USB outputs remain unused during the period. This is very handy and useful for outdoor activities.
User Manual
Yoobao YB-642
Fits most digital devices with DC-5V input
Parent No.201130160588.4
Operation
1. LED torch: Depress the button for 2 seconds to switch on the LED torch; to switch off, depress the button for another 2 seconds again. The LED torch can last more than 540 hours on a full charge.
2. Capacity display: YB-642 is with one power indicator and 5 capacity indicators for knowing the capacity easily. As listed below.
| | | | | | |
| --- | --- | --- | --- | --- | --- |
| Capacity Light | 1 ON | 2 ON | 3 ON | 4 ON | 5 ON |
| Capacity | <20% | 20% – 40% | 40% – 60% | 60% – 80% | 80% – 100% |
3. Input/ Output: The input interface is Micro connector type, output interface is USB connector. There are 8 kinds of changeable connectors that provide compatibility to most commonly-used devices on the market.
| | |
| --- | --- |
| Output Interface | Fits |
| USB OUT 1 | Nokia, HTC, BlackBerry, Samsung, Sony Ericsson, LG and mobile phones need a DC5V-1A input device. |
| USB OUT 2 | iPhone, iPad and another Tablet PC or need a DC5V-(1A-2A) input device. |
* Specifications are subject to change without notice.
To charge other devices
YOOBAO YB-642 fits most digital communication products with DC-5V inputs. Packing with 8 kinds of changeable connectors, it's compatible with most mobile and digital equipments.
Caution:
1. It takes about 15 hours to fully charge YB-642 due to its high capacity. But this is base on the specific situation.
2. If the YB-642 is not working during the charging, please make sure the cable is firmly connected and the correct changeable connector is used. We recommend using YOOBAO or other reputable adapter to charge the power bank.
3. Every power bank has conversion efficiency loss. So capacity in the power bank do not equal to the capacity that charge into devices.
4. The power bank is compatible with most mobile phones. It might not fit for some mobile phones and this situation is not included in warranty and exchange conditions.
Charging status
Charging devices
• Red Power indicator lights, the device is being charged.
• Blue Power indicator lights, the device is fully charged.
• Capacity LED indicators show how much capacity is remaining in Power Bank YB-642.
Charge YB-642
• Red Power indicator light, YB-642 is being charged.
• Flashing capacity indicator light displays the current capacity in YB-642.
• Blue Power indicator lights, YB-642 is fully charged.
Pin sạc dự phòng dung lượng cao